They say a picture is worth a thousand words. Since this guide was over two thousand words (and as I first wrote it, it was even longer) I think it's time for some good pictures in here.
This is a guide for creating a face for your tulpa. The face will look like a photograph, but will not resemble any specific person.
You might also be able to use this to make a picture of a pre-existing tulpa, but it'll be more work, and you'll have to be a little creative with the instructions.
First, an example: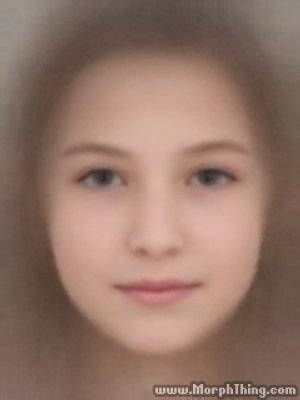 She was made of 236 images of 64 different models. It took a really long time. That's why I suggest you stick with 16 models. Fewer than that and you'll be able to recognize bits of the people the tulpa is made up, more than that and it takes a really long time.
Instructions:
ShutterStock
is a good site for finding the images because it allows you to easily find other photos of the same model, for when you find a model that looks good but the photos aren't passport-style.
Don't worry about watermarks -- initially I tried removing them, but it takes hours, and if you just ignore them they'll disappear by the time you're done anyway.
Once you have a few models, you can start combining them. There are many ways of doing this, but I used a website called
Morph Thing
. (I won't describe how to use Morph Thing because there are instructions on the web site.)
(10/04/2013 Edit: I just found
this site
, but it doesn't work for me. Maybe it will work for you.)
When combining images, you might have some problems. The main problems you'll be running into are little swirly blur effects, and the end result not being shaped right.
For the swirl blurs, the best thing to do is to try different combinations of the source images of your model. Most of the time, the swirl blur is caused by one image not wanting to play nicely with the others. Sometimes when you figure out which image it is, you can solve the problem by re-preparing it. More often, you'll just have to work without that image. As long as your other images work, you can still use that model.
When the face isn't the right shape, this is caused by source images of the model with her face slightly to the side. You can sometimes fix this by mirroring (flipping left to right) the image and morphing the reflection with the original. If you can't fix it like this, it may be better to just not use that image.
If you're really attached to an image that doesn't work, and you're willing to spend some money, you can buy
FaceShop Pro
, which is a Windows program (sadly, I haven't gotten it working under Linux) which allows you to create a 3D model of a face from a photograph. Once you have the 3D model, just turn it to face forward, take a screenshot, and use the screenshot for the morph. The program is unintuitive, difficult to use, expensive, and time-intensive, so I suggest just giving up on images that don't work.
Actually, you might be able to get away with flawed images sometimes. If you look closely at my example below, you'll be able to see some swirl blur and deformed faces near the end that I left in just because I wanted the project to be over with. All the flaws disappeared by the final image. This is risky though, so don't count on it.
When you have a final morph that you're happy with, you can always stop here. You now have a face you can show people if they ask what your tulpa looks like, and you have something to visualize while you make the tulpa. If you want to make a body or hair, or make a 3D model (either on the computer, or an actual plastic model you can hold) look
here
.
Well, that's how it's done. If you've followed the instructions, you should have a "photograph" of your tulpa, either facial or full-body. And if you have any questions, feel free to ask.
This is how my example was made. The original models are the little pictures in the middle. Two of the little pictures were combined for each of the pictures the next size up, and so on until I had only the two big ones on the sides. Those two were combined to make the face at the top of this post.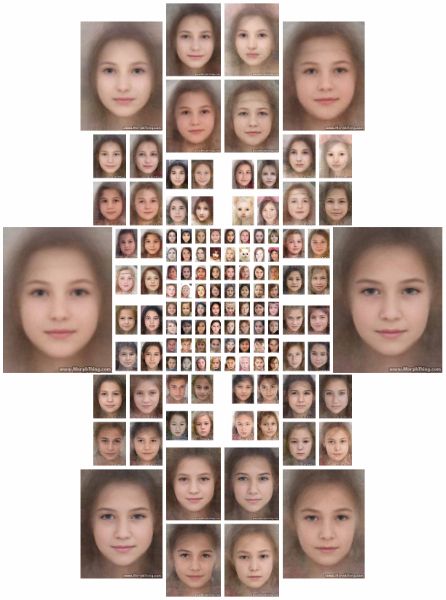 Personally, I finished the composite and made a model of her face with Vizago, but I never actually completed the body, because I realized 3/4ths of the way through that this girl was not what I wanted. So if anyone has any questions about the method up to that point, I can definitely answer them. Beyond that, I'll try to answer questions, but it's not coming from actual experience, just research I've done.
Enjoy!
"'Real isn't how you are made,' said the Skin Horse. 'It's a thing that happens to you.'"